Pork Chops With Rhubarb Sauce
Rhubarb.  What is it exactly?  It's a vegetable that I'd seen around, but never grew up eating.  My husband, the all time fan of different tastes, loves to eat rhubarb straight from the garden.  Not me!  The first time I bit into one it tasted like I was biting a lemon.  Yuck!  However, I'd seen a lot of rhubarb around at my local grocery store, and was wondering what I could try to cook with it that my husband and I both might like.
While scrolling through my favorite food website, Eatingwell.com, I found a recipe that sounded perfect: Pork Chops With Quick Rhubarb Sauce.  Trying to take care of a home and two children, anything "quick" catches my eye.  I knew Josh would like the rhubarb, and I was familiar with pork chops.  So, thought we'd give it ago.

Ingredients
1 tablespoon fresh thyme leaves, chopped, or 1/2 teaspoon dried
1 tablespoon extra-virgin olive oil
1/2 teaspoon salt
1/2 teaspoon freshly ground pepper, divided
4 bone-in pork chops, 1/2-3/4 inch thick (about 2 pounds), trimmed
1/2 cup 100% pomegranate juice
1/2 cup reduced-sodium beef broth
2 tablespoons honey
3 medium shallots (a small onion-like thing), thinly sliced
1 1/2 cups sliced rhubarb, fresh or frozen (thawed and drained)
1 teaspoon butter
The ingredients didn't look to hard to find.  I had the herbs and spices, plus the honey.  Everything else would just be a quick trip to the grocery store – or so I thought.  Both of my local grocery stores were out of rhubarb, and no one around me was growing any in a garden.  Hard as we could, neither Josh nor I could find "100%" pomegranate juice.  I finally settled on a Blueberry Pomegranate frozen concentrate I could make up that contained more juice and less sugar than other options.  The beef broth was finally located, but my local store didn't have shallots.  Ugh!  Finally, about a week and several grocery trips laters, I was able to locate all the ingredients.
The Process
As usual, what took the longest was preparing everything: making the juice, slicing the shallots, and slicing the rhubarb.  PJ was more than happy to help me make the juice.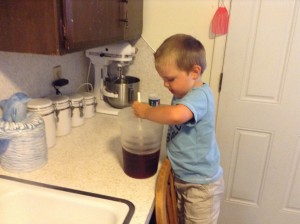 After I was sure that everything was prepared, I set to following the instructions.  The first step was to take the oil, herbs, and salt/pepper, mix it up, and spread over the pork chops.  Not too hard to do.
The next step was where it got tricky.  First, combine the juice, broth, honey, and shallots in a glass pie dish, and then microwave until it was reduced by half.  Then, stir in the rhubarb, and microwave for about another 3-6 minutes.  Finally, add the butter at end.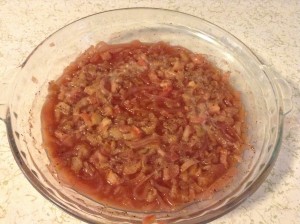 Why was this tricky – I was trying to grill the pork chops at the same time.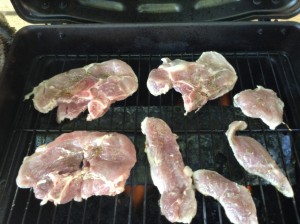 I had a gas grill outside, and the microwave was inside.  To top it off, I had two little children who were quickly growing tired of their sandbox and wanted to explore.  I was scared they were going to explore the grill or the surrounding area.  So, for the next 10 minutes or so, it was a constant game of going between the grill and the microwave, all while making sure the kids stayed safe!  When the pork chops and sauce were done, I was more than ready to sit down and take a bite!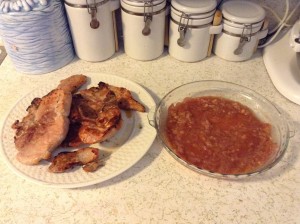 The Result
AJ, my picky eater, was didn't eat very much.  PJ was very happy to eat his.  As for me – delicious! I loved the sweetness, and it went really good with a side salad.  Josh was really entranced with it as well.
I took a small plate over to share with my mom, and she was very pleased.  She described it as being sweet, but having a little kick at the end.
So, would I recommend this?  Absolutely!  However, I would also recommend having two people cook: one to do the grilling, one to do the sauce in the microwave.  It might make it a little less stressful!