Ips: An Everyday Snack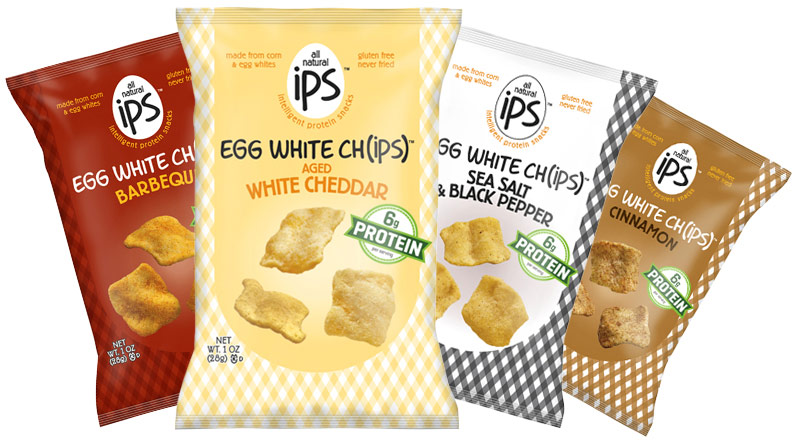 A couple months ago, I was approached about writing a review for a snack called Ips (Intelligent Protein Snacks).   Now, I'd never heard of them, but I was willing to give them a try.   I'm always looking for healthier options to eat than plain potato chips.
I was sent a sample pack with two 1 oz bags of the four flavors: Sea Salt and Black Pepper, Aged White Cheddar, Cinnamon, and Barbecue.   I shared each bag with Josh and the kids to see how they would like it.  The kids always wanted more of each flavor, so they obviously became fans.  Here's how Josh and I did with each flavor.
Flavor
Sea Salt and Black Pepper.  This flavor was nice.  It had a little spicy "kick" at the end of each one that I really liked.  I'd compare it to some salt and pepper you might put over popcorn.  It was enough to give it some flavor, but not enough to overpower it.  This is the one I would recommend if you are looking for something to munch on with just a little flavor.
Aged White Cheddar.  This flavor tasted just like a regular cheese puff, but not as cheesy.  I know that sounds weird, but it had a nice cheese taste without being overpowering.  And it didn't leave my hands stained orange!  Josh said that this was his favorite flavor.
Cinnamon.  This one was interesting.  With the first bite, I thought I was eating a piece of Cinnamon Toast Crunch.  However, the flavor soon dissolved and I thought I was snacking on Kix.  Josh was tempted to take the whole bag, put it in a bowl and pour some milk over it.  Though it was interesting, it was still really good!
Barbecue.  This flavor was, hands down, my favorite!  The reason – I thought I had just taken a bite of Red Robin's steak fries and sauce.  I LOVE those steak fries and sauce.   It was really hard to share this one.  Josh asked if he could take the other sample bag to work, and it was a definite no!  I was willing to share, but I wasn't going to give up that bag for anything!  I gave him and the kids a few more, but I relished each of those delicious bites.
Nutrition
I am not a registered dietician.  However, I have learned a few things about nutrition as I've changed my eating habits.  I've learned look for things that are high in protein and fiber.   Look for things low in fat, especially saturated fat.  I've also heard "If you can't read it, don't eat it."
Now, what makes Ips different from other snacks? For starters, they are made using corn and – get this – egg whites. Since the egg whites are put in, these snacks have a lot of protein – about 6 grams in each 1 oz bag.  A  1 oz bag of Lays Regular chips has only 2 grams.
These were also a lot lower in fat.  The highest one is the Aged White Cheddar, which has 4.5 grams of total fat (7% of the daily recommended value), and 1 gram of saturated fat (4%).  The other flavors, however, had no saturated fat all.
Finally, there was something I noticed about the ingredients on the nutrition labels: I could read them!  There are some things added for flavor such as sugar, but it states that: sugar, brown sugar, or molasses.  No high fructose corn syrup or anything similar.   All the other ingredients were things I was familiar with or had at least heard of.
Where to Buy
Ips can be bought in a variety of places.  They are available online at Ipsallnatural.com or also on Amazon.com.  You can get a variety pack (like I had), or also purchase individual flavors – they even come in 3 oz bags!  You can also go to ipsallnatural.com and use their store locator to see if a local store has them on hand.  My local Good Earth stores carry them, so I may be making a stop in soon!
These snacks were so great!  The bag by itself was good, but they were even a good side dish for some quinoa veggie burgers we had.  Ips are definitely something the family will be eating again.