My Story
All of our dreams can come true – if we have the courage to pursue them!
Walt Disney
Welcome to Fit and Lively Mom!  Thank you for joining me on my journey towards a healthy and happy life!
Why "Fit and Lively Mom"?
I recently started focusing more on my health with eating better and exercising more.  I began losing weight, and without the help of a gym!  My friends and family showed interest in the food I was cooking, the exercises I was doing, and other little things that were helping me improve my life.  I started feeling healthier (Fit) and happier (Lively), and all why taking care of my precious children (Mom).  This site was created to share the things I've done not only with family and friends, but with anyone who might benefit!
What made you start your journey?
I have struggled with being overweight most of my life, being above 200 pounds since  junior high school.  Since then, I have lost and regained weight several times.  After my last baby, I stopped trying so much.  My weight kept getting higher, but I didn't care.  That food tasted so good!
Last August, I looked at some of my recent pictures.  My big awakening came when I looked at a picture of me standing next to a cast member from my favorite TV show.  I was twice the size he was!  The person I saw in those pictures wasn't who I thought I had been seeing in the mirror.  I stepped on the scale and was shocked to see the number: 251.8.  For the first time in a long time, I felt ashamed.  Not only ashamed of how I looked, but ashamed of the woman and mom that I was becoming.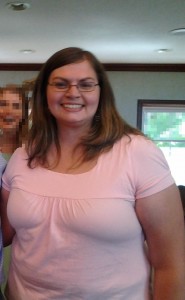 I took another look at myself and decided I wanted to change.  I didn't want to be ashamed of how I looked.  I wanted to play with my kids and do things with them instead of sitting on the sidelines.  I wanted to start eating better.  I wanted to pass on healthy habits to my kids.  Most of all, I wanted to be happy.
What have you done to change?
I didn't try and change everything at once.  I've learned that "by small and simple things are great things brought to pass" (Alma 37:6).  I started making better choices with my food.  I took my children for walks in the stroller.  I put in a workout DVD.  I joined a weightloss support group on Facebook.  Little by little, I made changes to my life.  Little by little, the weight started coming off.
Where are you now?
I have finally lost over 100 pounds!.  However, my journey is not over.  My journey is not only about losing weight.  It is about staying Fit and Lively!