Homemade Halloween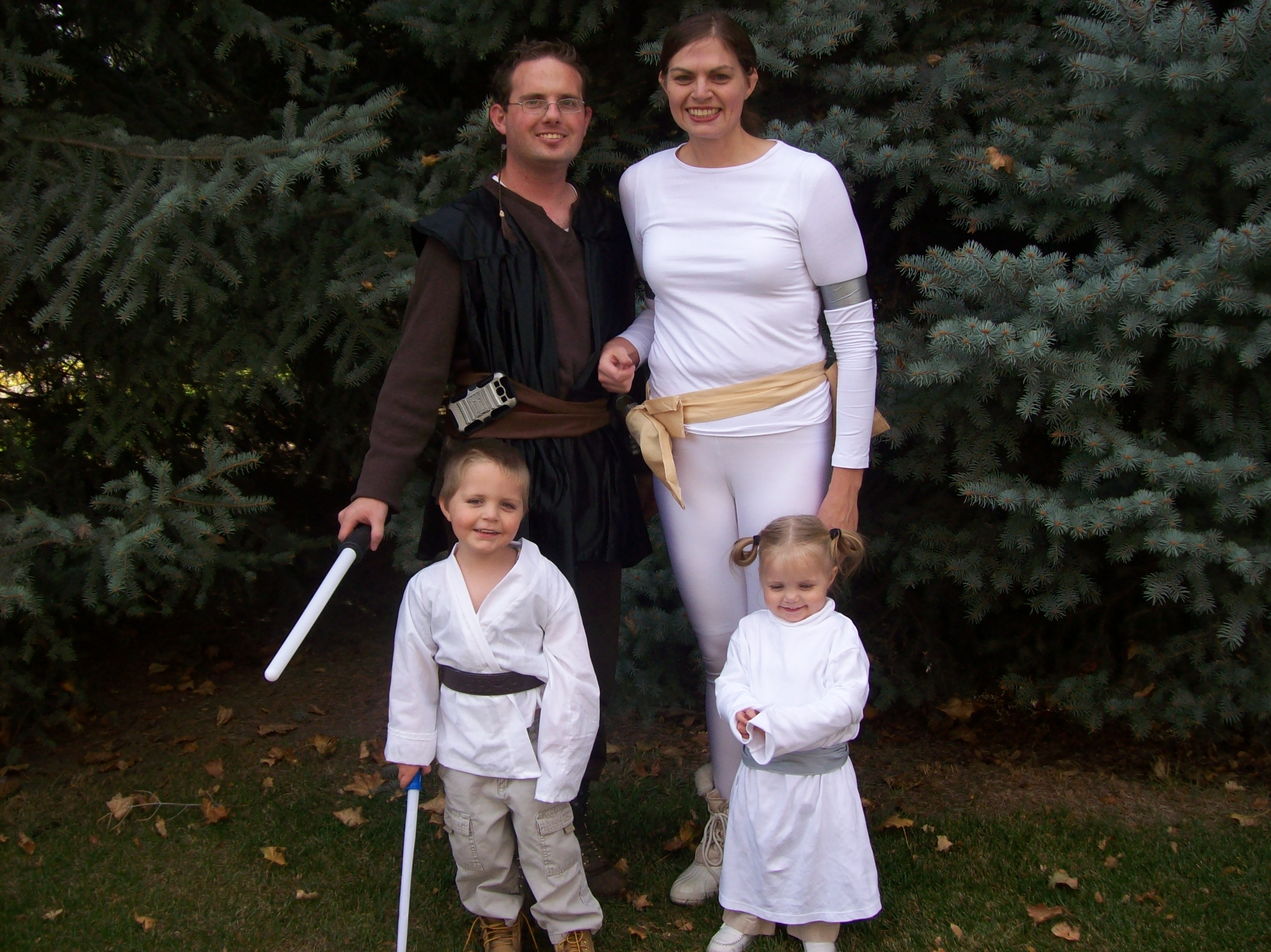 Ok, I know this post is a little behind the times – but life got hectic once November hit!  It was written, and is finally being published for your enjoyment!
Halloween has always been an interesting holiday for me.  I've always had fun dressing up and going to parties, but don't even think of showing me a scary movie.  The only "scary" I can handle is something like Jurassic Park or Jaws.
Last Halloween, I made a VERY long distance goal.  I saw a costume for Padme from Star Wars II: Attack of the Clones, and decided I wanted to wear that costume.  However, I didn't believe that I would look good in it at the weight I was at (234 pounds).  So, I decided that I was going to work hard so I could wear the costume THIS year.
Well, October 2014 finally arrived.  To be honest, I wasn't sure if I was still going to be Padme.  Yes, I'd lost a lot of weight, and I definitely looked better than I did a year ago.  However, I still didn't have the flat stomach I thought I would.  Was I brave enough to show off my new body – rolls and all?  I decided the answer was yes!  Not only was I going to go as Padme, but I decided to make it a family affair and have the whole family go Star Wars!
A complaint I've heard from some people in regards to Halloween is that you spend a lot of money for two hours of trick-or-treating.  I can see where there coming from (most Padme costumes I found online were at least $45).  I don't have the kind of money to buy a costume for me AND the whole family.  So, I set out to piece together the costumes myself AND not feel like I was wasting money.
Luke
PJ was going to be Luke – the poor kid wasn't really given a choice.  We watched Star Wars at least once so he could gain an understanding of who Luke was, and he seemed to like the movie.  For his costume, we went really simple.
Top: Josh'a aunt, a wonderful seamstress, took a pattern she had for a medieval shirt and made PJ's top for us.  We then secured it around his waist with a belt Josh had.  If  Josh's aunt hadn't been available, a karate gi or unbuttoned long-sleeved white shirt would have worked just as well.
Pants: A pair of khaki pants we already had on hand.  These could also be easy to find at a thrift store or yard sale.  Even brand new, these are pants that could be worn on other days and would be worth the money.
Shoes:  Once again, this was something we had on hand.  PJ had a pair of tan boots that worked pretty well, and he still wears them!  I've heard of some people wrapping ace bandage around the shoes/ankles to help it look more Star Wars, but I was content with just the boots/pants
Lightsaber: You can't be Luke Skywalker without a lightsaber!  I was originally going to use a "lightsaber" I had made using duct tape and a pool noodle, but it ended up being too big and awkward for trick-or-treating.  Luckily, we found a smaller "light sword" at Dollar Tree that worked just as well.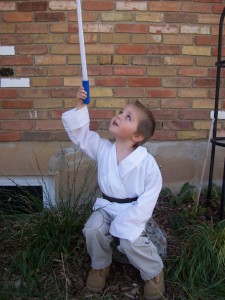 Leia
AJ's costume as Princess Leia was a little trickier.  We only had one item on hand and would have to come up with the others.
Dress:  No matter what, I just couldn't seem to come up with an idea for Princess Leia's dress – at least one that could be used again.  Then it hit me – a turtleneck, but in a size she could grow into!  I thought it was a great idea – until I couldn't find one anywhere.  Then while perusing Wal-Mart, I found a turtleneck in my size.  I slipped it over AJ's head, and it was the perfect length!  I had to fold up the arms a little bit and held them in place with safety pins.
Belt: For the belt, I was going to have to do something I hadn't done since junior high school – sew!  I pulled out the sewing machine I'd received for Christmas a couple years ago, watched the introduction video, and tried my first attempt.  I had bought some grey scrap material from Wal-Mart for about $1.  I just cut out a rectangle, simply folded the edges over and used a line stitch to hold everything together.  This took a couple tries as I wasn't following a pattern.  Luckily I had plenty of material!  I fastened it in the back with a safety pin or two.
Shoes: AJ had a pair of white shoes that just barely fit!  If the shoes hadn't already been in our shoe collection, I would have looked for something similar at a thrift store or even borrowed from a friend.
Hair: Just like you can't be Luke without a lightsaber, you can't be Leia without the buns!  AJ's hair is semi-long (she still hasn't had her first haircut), but the hair was the hardest part.  I watched some tutorials on using socks – that didn't work.  I found some bun makers from my grocery store that I thought would work, but I couldn't get them to stay pinned.  AJ of course was not liking ANY of these attempts as she hates it when I do her hair.  However, while trying to use the bun maker, I messed up and didn't pull her hair all the way through the elastic.  It looked perfect!  I simply repeated on the other side and – ta da! – we had a Princess Leia, and a daughter who was very happy I was done!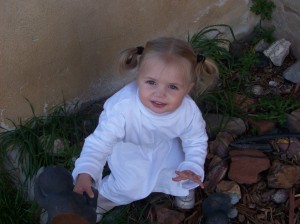 Anakin
If I had planned on being Padme, it only made sense to have Josh be Padme's husband.  I did ask him which costume he would like (Darth Vader or a specific costume), and he chose the Attack of the Clones costume.
Top:  I love the thrift store!  While looking around for the different costume pieces, I found a long-sleeved brown shirt in Josh's size.  I cut out a small V at the top to make it look more like Anakin.
The black pullover was a little tricky, however.  Josh's aunt had recommended just looking for some black material and cutting a diamond in the center, but I couldn't find any black material I could afford. Once again, the thrift store came to my rescue.  I found a black graduation robe for $4!  I cut the material along the sides and cut the sleeves off, as well as cut a V in the back and cut more of the opening in the front.  I trimmed some more material off the bottom and just folded the edges up with a line stitch on my sewing machine.
Pants:  Another favorite store when it comes to living on a budget is Wal-Mart.  They had a pair of dark brown sweat pants for about $5 that I knew Josh would wear after Halloween.
Boots: Being married to a guy who loves the outdoors has it's perks!. Josh already had a pair of brown boots to wear for the costume, but any brown shoes would probably have done the trick.
Belt:  I found some dark brown scrap material at Wal-Mart for around $1.  Once again, I just cut out different rectangles and used line stitches to help create the edges.  We then put one of Josh's regular brown belts on top of it.  I realized last minute there were some little knickknacks, like the lightsaber holder, that I forgot to put on.  I had some metallic spray paint I had used on some other props.  I sprayed an empty toilet paper roll and duct taped it to Josh's belt.  I then used the same spray paint on an old phone case he could attach to the other side.
Hair:  For Anakin's hair, I took some gel and spiked Josh's up a little.  I then took a brunette hair extension I had bought from Dollar Tree, braided it, and clipped it just above his right ear.
Add another Dollar Tree lightsaber, and we had our Anakin!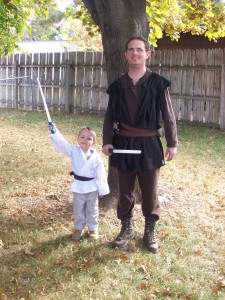 Padme
My costume probably took the longest to put together just because of all the individual pieces.  However, with a lot of shopping trips and some amateur sewing, I was able to pull it off.
Top: It took FOREVER to find a fitting, long sleeved white shirt that wasn't too see-through and was in my budget.  Finally, I found what I was looking for at Seagull Book (they have some nice modest clothes).  It was about $10.  It fit perfect!   For the silver bands Padme wears, I put some silver duct tape around my arms.
Pants:  If I thought the top was hard to find, the pants were worse!  It is almost impossible to find white bottoms after Labor Day – especially ones I would want to wear again.  I tried several department stores, but none seemed to have the fit I wanted.  I realized I was either going to need white skinny jeans or white leggings.  I found a pair of white leggings that fit me perfectly at Plato's Closet, and they were only $6!
Boots:  Unlike my family, I don't have that many shoes/boots – especially white!  However, while looking at a thrift store, I found some nice, white snow boots that fit pretty well.  They've come in handy since then with sledding and other winter activities the family has done.
Belt/Accessories:  One of the material scraps I got from Wal-mart was a tan color that matched the pictures I had of Padme's costume.  With some trial and error, I cut and sewed several different rectangles until I thought I had the perfect size.  However, once I looked at my picture again, I realized I needed some other things on my belt (like a holster).  I took the scraps of the material I had, cut what shape I thought I needed, and just did lots of folding/line stitching until I thought I thought my pieces looked good.  I put the accessories on the belt with some safety pins, and also used safety pins to hold the belt in place.  The extra pockets actually came in handy while trick-or-treating (one was big enough to hold keys).  For the gun, I bought a toy gun from Dollar Tree and just used some metallic spray paint.
Hair:  It took me a half hour to realize that I wasn't going to be able to pull off the hairstyle without any help.  So, I simply pulled it all back at the base of the neck, but didn't pull the hair all the way through the elastic.  Lo and behold, I had a little bun that from the front looked like Padme's.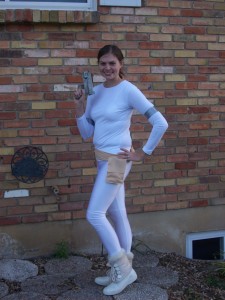 Was It Worth It?
I had spent a year losing weight and toning up so I could wear a Padme costume.  Was all the hard work I'd put in over the past year worth it?  Yes it was!  True, I didn't have flat abs and wasn't a size 2.  But I'd worked hard to be where I was, and I wasn't afraid to show it off!
I wanted to have a Star Wars family-theme on a budget.  Was all the time I'd spent going to different stores and at my sewing machine worth it?  Yes it was!  Overall, I think I spent between $40-$50.  That may seem like I a lot when you first see that number, but not when you consider that it took care of FOUR costumes, the majority of which is still being used.
I worked hard to have my family looking perfect and winning a costume contest.  Was all the effort I went to making sure we looked good worth it?  No, it wasn't.  I had read the announcement wrong and we actually missed the costume contest.  But this isn't why.  I was so irritable and stressed trying to have everyone look the part that I didn't take the time to enjoy being with my kids.  I got nervous anytime I saw a mud puddle, chocolate bar, or anything that could leave a stain.  I got upset when I actually found some small stains on the kids clothes – even though they were easily hidden and eventually washed out.  It wasn't worth all the stress I put myself and others through.
However, once I relaxed and enjoyed the evening, everyone else did as well.  So we didn't get the cash prize!  I had fun taking pictures with my kids.  I laughed as AJ held a tarantula, but PJ wouldn't go anywhere near it.  We enjoyed spending time with cousins and grandparents.  I liked seeing Josh show off our family to his coworkers with pride.  And the kids and I enjoyed trick-or-treating around the neighborhood.
Overall, I learned it's not about how good I look in my costume or how much money I save.  It's about my family and how much we enjoy being together.