Exercising With Kids: Dancing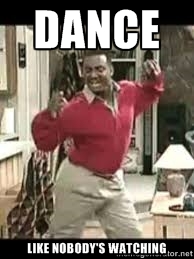 There are so many ways that you can get some exercise in with your children.  One of my favorite ones – dancing!  It can be done any time, anywhere.
Dance Party
If you don't know where to start, just turn on the radio and move your feet!  There are so many radio stations out there.  Just find one that you think you and your kids could dance to, and cut a rug!
If you want to go a little more hi-tech, there are websites/apps like Spotify and Pandora that have a variety of radio stations, or you can even create your own playlist.  To help you get started, here's a playlist with a variety of songs that get mine (or my kids') feet moving.
Learning to Dance.
If you're a little more adventurous, you can always try learning to dance in two ways: specific dance moves and line dancing.
Dance Moves.  Moonwalk.  Running Man.  The Charleston.  I don't know many people who haven't tried to do these moves at least once.  If you want to make your dance parties a little more fun, try learning one of these or an entirely new dance move.  Here's a little video to help you and your kids learn some basic moves.
Line Dancing. Though this probably reveals how old I am, I love doing line dances!  Once you learn the steps, the rest of the song is a cinch.  And I know I've gotten my heart rate up doing dances like Boot Scootin' Boogie or Electric Slide.  A simple search on Youtube produces several different instructional videos.  Some popular line dances (besides the two just mentioned) are Macarena, Thriller, and Black Cat.
Video Games.
I've found there are so many video games that encourage you to get up and move, especially if you have a Wii or Kinect.  There are many video games geared specifically towards dancing, even tailor-made for kids.  My family personally owns Just Dance 3 and Zumba World Party.  For older kids (probably 7+), they can grab the other remote and have a dance battle.  I tried playing Just Dance with PJ, and the poor kid just stood there holding the remote, not really knowing what to do.  When I put on my Zumba game, though, it was fun watching him and AJ try to copy what they were seeing on the screen.  It only lasted a few songs, but we had fun!
So put on some music (or create your own) and have fun dancing with your kids.  You'll start creating some fun memories, and you'll even burn a few (or several) calories!