From 250 to 5K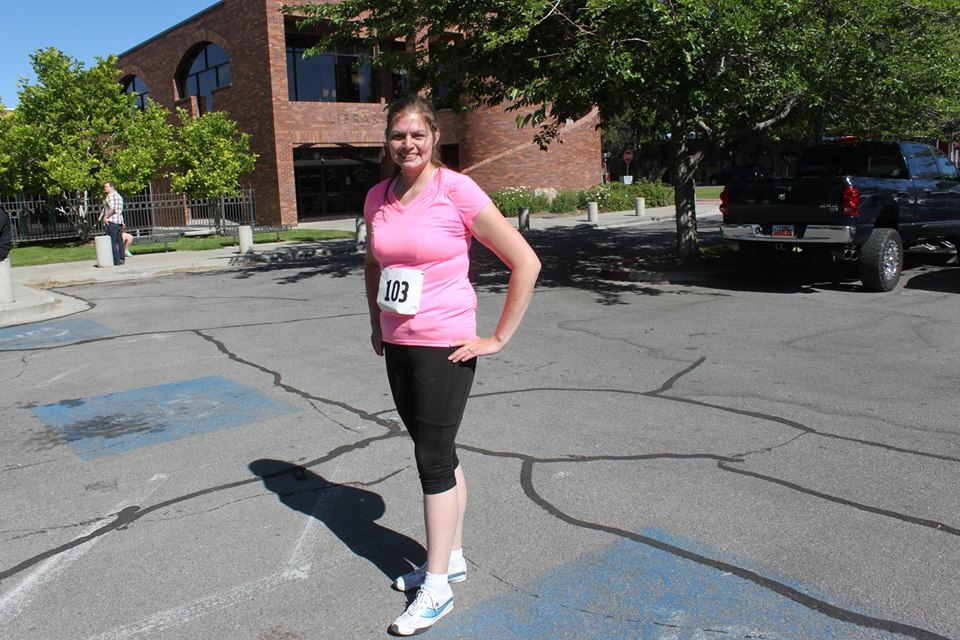 A Resolution
Like everyone, I made a few New Year's Resolutions on January 1.  I didn't want to just say "Lose weight."  I'd said that before and it never went anywhere.  Plus, that was something I was already doing.  I wanted to be more specific.  So, I set a goal to accomplish something physical.  I decided on a 5K.
As the year progressed, I put this resolution in the back of my mind and simply focused on getting more fit.  I started a new workout program a friend had recommended called Pretty Fierce: Weight Loss with Lindsay Brin (PF:WL).  For 8 weeks, I just focused on that.  When I finished the 8 weeks, though, I still had plenty of weight to lose.  But I wasn't sure what to do.  Should I focus on losing weight, or finally start looking at achieving a goal?  For about two weeks, I was in a workout limbo.
Finally, I made the decision to do both!  PF:WL had come with a 10K hybrid training program.  I simply took the advice of my friend and would cut the distances in half, but still do everything else as it said.
Come Rain or Shine
There were times this wasn't easy.  The first day that I was actually supposed to go out and do a distance run, I had put it off until the kids were down for a nap.  However, with it being April, it started to rain.  I knew that if I didn't run that day, I wasn't going to at all.  So, armored with a jacket, sweatshirt, and gloves, I head out for a little jog in the rain.  I came home with soaked clothes and shoes, but a feeling of satisfaction that I hadn't given up.
Josh and I decided to take a short weekend trip to visit his family – 12 hours away.  The weekend we decided to go was two weeks from the 5K I had decided to run.  The day we planned to head down was, again, on the day my program called for some distance running.  However, my husband assured me we would get there early enough for me do a little run.  Well, we finally pulled up to my in-laws about 9:00 p.m. (traveling with little kids always goes longer than planned).  After a late dinner, and giving it some time to digest, it was 11 p.m.
Most people would have just called it a night and gone to bed.  However, I had too much support to let that happen to me.  My in-laws had planned on me running and had done what they could to help me.  My father-in-law had already measured out a route that was a 1/2 mile, allowing me to run it as many times as needed to equal my distance.  My mother-in-law was more than happy to keep an eye on my sleeping children.  Finally, Josh pulled on some track shorts and pushed me out the door into the hot, humid weather.  It was 11:45 when we got back, but we got the run in!  (My poor husband has the twisted knee to prove it).
The hybrid program was challenging.  There were times I just lay on the floor right after a workout, trying to find strength to move again.  The DVDs got put on pause several times as I took the trainer's advice and did things at my own pace (an extra 5-10 minutes usually got added on to these short workouts).  Sometimes, after going down for another set of burpees, I didn't know if I could find the strength to get back up!  However, I'd given up on this goal before, and I didn't want to let that happen again.  One week before my planned race, I finally went and registered so that I wouldn't back out.
Rise and Shine
The day of the race finally came.  I was up at 6:15, trying to make sure that I could eat a little bit and let it digest before running.  I headed over to check in about 8 a.m.  After getting my number, I still had about a half hour before the race started.  Not sure what to do, I grabbed a sip of water and wandered around to see what the other runners were doing.  I felt intimidated, surrounded by others who looked like professional runners.  Some were stretching on the grass, others were doing little jogs around the buildings.  I just set out for a nice walk, trying to keep my legs warmed up for what lay ahead.  Soon, they announced it was time to line up.
Once again, I had that nervous, stage fright feeling.  Questions swirled all around my head.  Do I really know what I'm doing?  Will I make it?  Am I insane?  I decided the answer to all three was yes!  Finally, it was 9 a.m., and we were off.
♪ Just Keep Running, Just Keep Running ♪
As I started out, I was still looking at everything around me.  Then I saw the best sight of all – my family.  My husband was standing there, trying to juggle a camcorder and two little kids.  I gave a big smile, waving as I went passed.  However, I soon rounded a corner and could no longer see my little family.  I was no longer training, but was actually doing what I had set out to do – and I was alone. I didn't have any family or friends running with me. I didn't have an iPod to listen to. All I had was my own strength to keep me going, and my own mind to keep me company.
As I started out, I tried singing different songs in my head, trying to think of one with a good beat.  "Catching My Breath," "Footloose," and even "Let It Go" swirled through my head. This worked, but my mind still became aware of the other things around me: the sound of feet as they hit the road. The conversations of some of the other runners. The houses that aligned the streets. The people who stood alongside the road, either cheering us on or giving a confused look about what was happening.  Still, I focused on my two personal goals: run the whole race, and finish in under 30 minutes.
It wasn't just the songs in my head that kept my legs moving: it was my family.  I thought of my dad and other supporters who might be cheering me on from heaven.  I thought of the support I had received from my mom, my siblings, and my in-laws.  Most important, I thought of my husband and children waiting for me at the finish line.  When I thought of the love and support of all these people, I would get a second wind that I didn't even know existed.  It would only last for a moment, but it would give me enough energy to keep running.
At last, I rounded another corner and saw the finish line coming up.  I didn't know how much time had passed, but I had a small hope that I could accomplish both of my goals.  Once I thought I had about a block left, I gave it everything I had.  I crossed the finish line with a time of 29:11!
All You Need is Love
I grabbed some water, an orange, and just hugged my kids and husband.  My mom and siblings soon showed up to congratulate me as well.  We waited around to see if I would win any of the drawings, and then soon headed home with nothing by my race T-shirt.  Though it would have been nice to win some of the prizes, I wasn't leaving empty-handed.  My hands were full clasping hands with my husband and kids.
I started my journey thinking that I was doing it all alone, but I couldn't be farther from the truth.  I have received encouragement from several family members in so many ways.  Whether it has been watching my children so I could work out, being willing to try new food, or just the occasional "You're doing great," I have had nothing but support.  I wouldn't have been able to go from 251 pounds to running a 5K without it.
When I crossed that finish line, I did feel tired, but I also felt happy.  Happy that the race was over.  Happy that I had was able to run the entire route.  Happy that my time was under 30 minutes.  But most of all, happy with all the love and support that encircled me!
This post was featured on Jebbica's World